PERMA-SNOW™®
Patent Number GB 2394902
PERMA-SNOW™® is a simple, ingenious and versatile artificial ski slope surface that is cost-effective, safe, easy to install & will provide a great surface for skiing, snow boarding or snow-tubing.
It provides a safe, cost effective and snow like experience for all your customers.
Installed in six fully operational commercial ski centres
Over 30 consolidated years of operational field trials in real businesses
We are the designer, manufacturer and most importantly an operator
PERMA-SNOW™® and PSGripmat™ cushion and drainage underlay will change dry slope activities forever
See how easily PERMA-SNOW™® can replace or compliment your existing brush matting or existing worn carpet surface.
PERMA-SNOW™® In Action
Techmat 2000 has invested years in improving the product PERMA-SNOW™® including extensive field testing on five commercial ski centres. So confident in the product, it was installed in five of the John Nike Leisuresport Ski Centres. The early versions of the product were good, but following operator, customer input and improved manufacturing specifications the lastest version of PERMA-SNOW™® can only be described as outstanding.
Easy to install, easy to maintain, quick, efficient, cost effective, hard wearing, safe to fall on, no metal used to fix the surface, ski's and boards like snow. Great for all dry slope activities, ski centres, freestyle parks, jumps, pipes, rails, racing, and tubing areas. PERMA-SNOW™® is the market leader in value for money and provides the ultimate dry slope surface solution.
But don't take our word for it, see what others have to say ...
I chose Perma-Snow for installation of a snow-tube zone at Alice Springs Golf Club after comparing the performance of Perma-Snow against other leading brands. I like the fact that it out performed the other material in slide properties and can easily be installed and maintained with our own labour
Injury Reduction
Personal injury litigation is on the increase. This affects your business insurance premiums making them expensive and prohibitive. PERMA-SNOW™® provides a cushioned, safe surface. Our five centres reported a dramatic reduction in injuries once PERMA-SNOW™® was installed. So safe is PERMA-SNOW™®, that free style boarders and skiers improve their techniques due to the confidence they have of the surface and the significantly reduced risk of injury, see graph below.
Easy to install
PERMA-SNOW is so easy to install. No specialist equipment is needed. Your own employees with some basic training can install PERMA-SNOW quickly with its revolutionary design.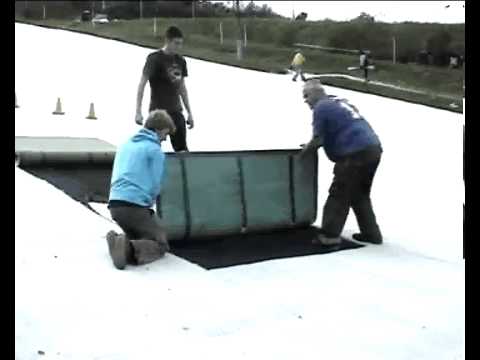 Watch some of the staff at a ski centre easily replace a section of PERMA-SNOW™® after receiving a brief training session.
Step by step laying process
See the installation of an entire ski slope come together in our Bracknell Ski Centre case study.
Coming soon - New PERMA-SNOW® slope at Bracknell Ski Centre. Complete with misting system. Watch this space!